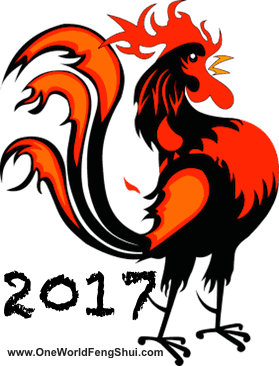 Based on the solar calendar, we will be entering The Year of The Fire Rooster on February 3, 2017 at 11:49pm. The Year of The Fire Rooster happens every 60 years, the last time was in 1957.
Every year new energies visit the eight cardinal and inter-cardinal directions. According to the energy in that sector, it could have an auspicious or inauspicious impact on you and your life. If your home or business faces that direction, if you sleep with your head to it, work or spend long periods of time facing it, cook a lot and your stove knobs face that direction, or if you often use a door opening to that direction, expect some changes.
These new annual energies can affect you in many ways as indicated below:
In the East, the "8" Wealth energy visits this year. The "8" is terrific for money, honor, loyalty and wealth. If it is "activated", it will be a rewarding year for money and finances!
Due to The Three Killings energy, avoid construction and ground breaking in the East of your property; it is recommended to keep it peaceful and quiet until the beginning of February 2018.
In the Southeast, the "9" Long Term Prosperity energy visits. It indicates future wealth, such as return on investments like the stock market, IRAs, 401k. This energy also helps diplomatic relationships, brings great achievements, promotions and bonuses, spiritual growth, engagements, weddings and celebrations. It is particularly benevolent to people in the restaurant industry, interior design, and the beauty world.
In the South, the "5" Yellow Star visits.  
Wu Wang indicates trouble and misfortunes in pretty much all areas of life including money, relationships and health. Note the "5" is strong in the South and if this energy is activated in your home, you may consider moving your bed and your desk for an easy fix.
In the Southwest, the "7" energy of Robbers and Thieves visits and it may make your life and business difficult with deals falling through, people owing you money not reimbursing you as well as people sweet talking you and stealing from you.
In the West, the "3" Jade Star of Quarrels visits, indicating tension, gossiping, arguments, and legal issues. It can also indicate parking and speeding tickets, so be cautious when driving.
In the Northwest, the "2" energy of Health visits this year and makes you prone to health issues, mostly in the reproductive organs, stomach and digestive system as well as having difficulty to become pregnant, and suffer from depression. Metal can help weaken this negative energy, so if your home faces Northwest, place heavy metal objects made of brass, copper or bronze, at your front door. Avoid sleeping with your head to this direction.
In the North, the "6" Benevolent energy is visiting this year. Consequently, it may be good for your career and provide needed support; it also means you'll have to work hard for your money.
In the Northeast, the "4" energy of Romance and Academics is visiting. It may stimulate your creativity and book writing, offer you recognition at work, publicity, take you on trips, develop some romance – and if you are single, it may help you attract a partner into your life; if you're in a relationship you may get married, especially if your front door opens to it or if you sleep with your head to it.
If the overall Feng Shui of your home is good, you'll be less or little affected by the negative visiting energies.
New energy is needed to clean out the old and manifest new opportunities to take us to the next level and allow us to expand and evolve.
This Year of the Fire Rooster is Yours, Make it a Great One!