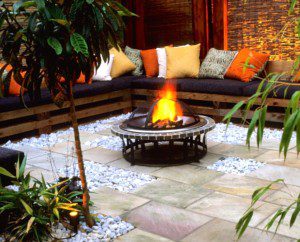 Memorial Day seems to be the official starting date for backyard season and outdoor cooking.
Whether you're looking at your patio or backyard with sadness or hopelessness because it desperately needs some TLC or perhaps a whole makeover after a long cold winter or simply because you're in the mood for something new, be mindful of the impact that an outdoor kitchen, BBQ, fireplace or fire pit can have on you and your family.
Before adding any of these features to your favorite gathering place and further create some ambiance for cool evenings with family and friends, read these few tips for good Feng Shui:
First and foremost, think safety. There is no need to make a giant bonfire since it would only add risks for an accident. Avoid windy weather and keep flammable materials at a safe distance. Be aware of fire regulations in your area and keep a large water bucket or a water hose handy.
Although outdoor kitchens are more casual, they can be quite sophisticated and follow the  same principles as indoor kitchens. The stove, grill, barbeque or fireplace location and direction are essential to benevolent Qi. The energy there, good or bad, will have an impact on all occupants of your home. Don't take a chance, ask your Feng Shui consultant.
The BBQ should be placed against a wall, not on an island. If not, it becomes a sha chi (negative energy), creates some energetic instability and can trigger health problems.
The grill and any water feature (sink, fountain, pool, jacuzzi) should be apart from each other (at least 1ft) since Water and Fire elements clash and may create health issues.
Let your creativity go wild with colors and styles since they are not relevant in regard to Feng Shui – except for red and black which respectively represent Fire and Water. Please use mindfully and here too, preferably with the help of your Feng Shui consultant.
When sitting at the patio dining table or living area, make sure to face one of your best directions so that good ambiance reigns.
Now, you're ready to enjoy delicious moments in your backyard!